As students and workers prepare to return to in-person with Toronto's COVID-19 restrictions loosening next month, mental health advocate and facilitator Leesa Renée Hall said individuals should be patient and gradual after more than two years of adjusting to the pandemic.
"Going through the pandemic, with all the constant change, that's something as humans we don't do well with," Hall said. "Change here and there is already tough to deal with, but then to have it happen every day, every hour –  it can take its toll."
With universities and workplaces plan to fully re-open and social events are bound to return, she said individuals should take it slow and be mindful of one's boundaries and capacity.
"We have been told the message over and over, you know, to stay away from people to stay safe," Hall said. "Go slow – if you can only survive for 15 minutes, try that and increase the time with each social event."
Second, Hall said communication is key in order to establish healthy boundaries. This means being honest about one's confidence being affected by the pandemic, and the need for time and space to readjust accordingly.
During the pandemic, she said there are three apparent changes in people's lives that have affected mental health, especially as isolation and limited social interactions became the new norm. The changes are seen in the role, home and form.
"Instead of just being a student for instance, they have had to adjust their roles as they stay home," Hall said. The examples she provides are having to become a daily caregiver or tutor on top of other responsibilities.
Second, the home, which can be perceived as "refuge from the rigors of the world" is now an office, classroom and gym as well. Further, Hall said the relationships to items and "clutter" at home affects one's mental health as well.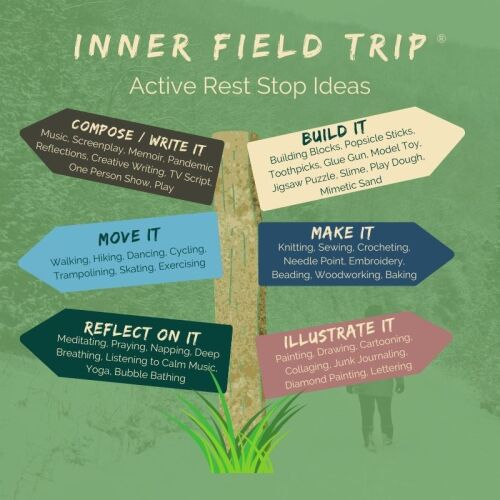 Third, form deals with appearance and body image. With Zoom and online meetings the primary methods for communication, individuals have become more conscious about how they look, both to themselves and how they are perceived by others.
While she advocates for students and those who are able to seek help and advice from a licensed therapist or other related services, Hall understands that those are not always readily available.
In the meantime, she mentions her "active rest stops," six categories she developed to help disconnect from the rigors of daily responsibilities and the overabdundance of negative information across social media channels.
The categories are build it, make it, illustrate it, reflect on it, move it, and compose it.
Activities that encourage therapeutic creating like painting and video games are some examples that Hall outlines.
As mental health and readjusting to in-person activities continue to be discussed as more of Toronto opens up again, Hall said it is important to keep the conversation going on mental health and wellness.
"When it comes to mental wellness, a big part of that is self-care, and self-care is not a reward for doing work – it is part of the work."
Part of this includes being more well-versed in knowing when mental wellness requires attention, Hall said.
Hall's work include being the founder of the Inner Field Trip, a community dedicated  to helping "highly sensitive, deep feeling, and neurodivergent people who are exploring their unconscious biases using guided prompts and reflective writing" according to its website.
Listen to Leesa Renée Hall's full interview here: