After two years of navigating through the COVID-19 pandemic, the Toronto Irish Film Festival is back in theatres this month. The 12th iteration returns to the TIFF Bell Lightbox with an in-person double feature on March 25.
"The Irish are kind of famed as storytellers," said John Galway, festival co-founder and executive director. "There's an oral tradition and a written literature tradition, and the film tradition lately has come on strong."
Since the festival's first year, Galway said it continues to garner a dedicated audience that can be divided into "three large buckets."
The first is the Irish-born Canadians in Toronto who are missing a bit of home. Second is the second and third generation Canadians striving to keep a strong connection to their heritage and culture. Finally, there are the film lovers and those who have travelled to Ireland.
The first group is the core base that the festival grew and built upon, according to Galway.
Following the uncertainty of the pandemic and its strain on the film industry, Galway is relieved to see the festival get an in-person component and with audiences coming to the films again.
Since the Lightbox opened in 2010, he said the theatre has become a central hub and home for the festival and its filmgoers.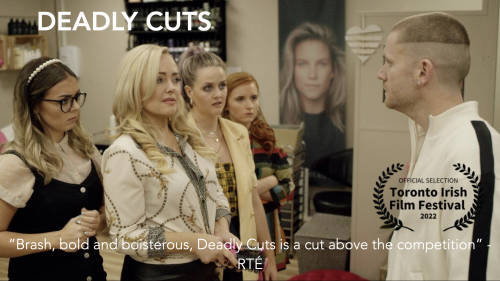 In terms of the curation process, Galway and his team chose their films for the lineup through different avenues including a digital portal called Film Freeway and tracking filmmakers who have had their work with the festival before.
Galway also considered other festivals like the Toronto International Film Festival, Rogers Hot Docs festival and ones based in Ireland for the lineup.
This year's lineup will showcase six full features and three short programs. The in-person portion will have a double feature at the Lightbox: Doineann and Deadly Cuts.
Doineann is described as a noir thriller about a man returning to his family at their holiday home, and becomes stranded by a storm with the small community there.
Deadly Cuts is a black comedy about a working-class hair salon in Dublin who become community heroes when they are faced with gentrification and a local gang.
All films will be avaliable online with through a full access digital pass until April 3.
Listen to John Galway's full interview: