Toronto Mayor John Tory along with Toronto public health officer Dr. Eileen de Villa and city councillor Joe Cressy announced the expansion of the Team Toronto Mobile Strategy that will bring COVID-19 vaccine pop-ups to areas and settings where there are low vaccinations rates or high risk of contracting the virus.
"The expansion will allow Toronto public health up to 200 mobile clinics each week, in addition to clinics run by Team Toronto and other public health partners," Tory said.
The new strategy comes into effect as the city battles the fourth wave of the pandemic and increased cases of the delta variant.
Tory said areas with high concentrations of foot traffic will be prioritized, including malls, Toronto Transit Commission (TTC) stations and places of worship.
Despite the uptick in fully vaccinated individuals in the city this summer, Tory said there are several residents that still need their first dose.
The new strategy uses collected data to pinpoint specific neighbourhoods and communities that have lower vaccination rates, and the mobile sites aim to encourage these residents through improved accessibility and convenience.
Some of the larger vaccination facilities have closed, with its resources being put towards these mobile sites, Tory said.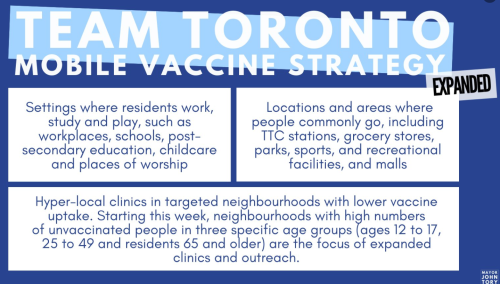 To date, close to 77 per cent of eligible Toronto residents are fully vaccinated, with approximately 4.5 million doses administered. About 84 per cent of residents have received their first vaccination.
As the summer winds down, the city continues to see a steady increase in COVID-19 cases, with a seven-day average surpassing 700 in Ontario, according to the Public Health of Ontario's Daily Epidemiological Summary.
Along with schools reopening for in-person classes this September, several venues including the Rogers Centre, Hot Docs Cinema and the TIFF Bell Lightbox require attendees to show proof of full vaccination.
Listen to the CJRU news update: