Toronto took centre court as Canada's rising basketball stars competed in FIBA's inaugural GLOBLJAM.
The tournament, which was held at Toronto Metropolitan University's(TMU) Mattamy Athletic Centre from July 5 to 10, showcased under-23 women's and men's teams competing for the championship.
Audiences were able to catch glimpses of the game's rising stars, including the ever growing pool of Canadian talent, and partake in the community and festive events at Yonge and Dundas Square. 
"Having high end international talent you can watch in Toronto, and especially as a TMU student in our own building," said sports photographer Curtis Martin.
Martin, who documented the tournament and community events for the five days, said these showcases are important to continue promoting Canada's growing basketball talent on more accesible, visible stages, sustaining the current enthusiasm and help increase the potential more future opportunities.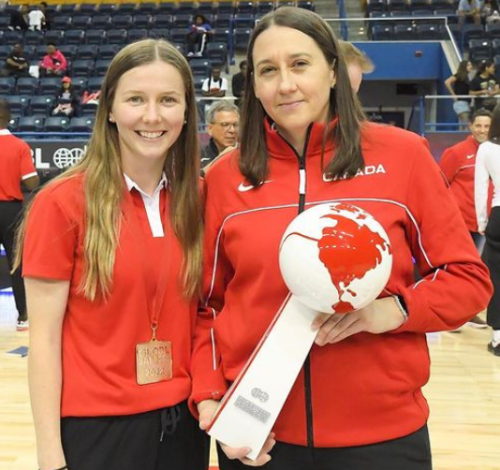 GLOBL Jam gives the emerging talent new avenues to develop and preparation for the senior teams, which are the ones gaining the most coverage as they hope to qualify for the next Olympics, according to Martin.
Support for the tournament was evident in the notable attendees as well. Toronto Raptors president Masai Ujiri and general manager Bobby Webster, as well as reigning rookie of the year Scottie Barnes were present at the games. Others include Oklahoma City Thunder guard Shai Gilgeous-Alexander, who is arguably one of Canada's biggest stars in the NBA today. 
The Canadian women's team, who prevailed over France in the championship game,were coached by TMU head coach Carly Clarke. The team remained undefeated in the tournament and continues Clarke's own unbeaten streak this season.
"Listening to what she [Clarke] needs to say, she always had a very direct message," said Martin. "She just brings something out of her players that, you know, you are not able to quantify.
During the 2021-2022 academic year, Clarke also led TMU's women's team to winning the USPORTS championship, as well as to a perfect season. 
"What better way to showcase her abilities, not just winning on the USPORTS level, but also on an international level."
For future events, there is hope that GLOBL Jam will continue beyond 2022, and that it can return to Toronto. FIBA has yet to confirm its decision for future events.
Martin believes it should be, especially as basketball continues its growth nationwide.
"Anytime we can have international teams come out and also have them play against Canada basketball at whatever age group you want to throw in there, I think it would be a good idea," he said. "I definitely think this fits a niche that every country needs, which is 'how do we fit in the development of U-19 and the senior team?'"
Listen to Curtis Martin's full interview: