Soccer continues to gains more attention within Canada as the Canadian national team continues its journey towards earning a 2022 FIFA World Cup berth and Toronto hoping to host the 2026 World Cup.
"It would be huge [to host the World Cup], there's never a better opportunity to do it now, especially given that it is approaching 2022, and you're seeing the spike and noise that is already being made," said soccer analyst Josh Deming.
Deming, who is the host of the Canadian Youtube channel JJD TV, said it is the ideal time for Canada to host a World Cup, especially as the sport continues to attract more fans and the national team gains more attention on the international stage.
The City of Toronto, led by mayor John Tory and Maple Leaf Sports & Entertainment (MLSE) Chairman Larry Tanenbaum, welcomed a visiting FIFA delegation for a World Cup 2026 host city site visit last week.
The city is one of the final candidates vying to host the World Cup for the first time, and this comes at a time when Deming said Canadian soccer continues to grow, evident in the success of the Toronto FC and Major League Soccer (MLS) and the national team's emergence.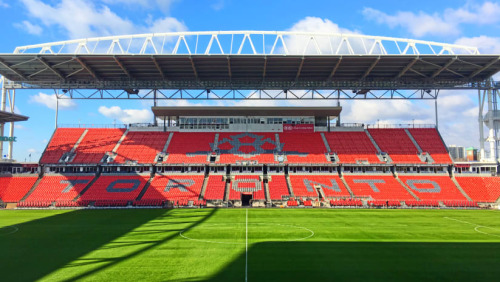 Deming considers the recent success as a "huge turning point" for the national team, who has the opportunity play in the World Cup for the first time since 1986.
Canada is currently in first place in the CONCACAF 2022 World Cup qualifying standings with four wins, four draws and no losses. Their run includes dramatic victories over Mexico and Panama this fall.
Deming credits star player Alphonso Davies as one of the main factors in the team's consistency. For the past three years, Davies has been one of the sports' brightest stars and has been vocal about his commitment to representing Canada internationally.
Davies, who was born in a refugee camp in Ghana as a Liberian national, became a Canadian citizen in 2017.
"A huge shout out needs to go to Alphonso Davies because again, when it comes to success and putting Canada on the map, he was a huge part of that," said Deming. "What he did to get that move from the [Vancouver] Whitecaps to Bayern [Munich] to then go on and win pretty much everything there is to win in world football was unbelievable."
Other contributing factors Deming outlines include MLS Canadian academies helping to develop the next generation of players, the inception of the Canadian Premier League and players with dual citizenships that are committing to Canada's team like Davies.
Along with Davies, Canada's other rising stars on the national team include Tajon Buchanan and Jonathan David.
Canada's winter qualifiying window for the 2022 World Cup opens in January, and will include matches in Central America and a match against the US at Tim Hortons Field in Hamilton, ON. on Jan.30.
While Deming said the national team is still ways away before matching up against the upper echleons of the soccer world like France, Germany and Brazil, he believes Canada will have a high compete level each match and as the program continues to develop.
Canada's first 2022 winter qualifying match is on Jan.27 against Honduras.
The 2026 World Cup host cities are expected to be announced by FIFA early next year.
The exact dates of the tournament have not yet been set.
More details to come.